by Shawn Healy, PhD, Civic Learning Scholar and Barb Laimins, Teacher Mentor Liaison
Teacher Mentor Liaison Barb Laimins has compiled a number of links and lesson plans to assist you in bringing the Electoral College into your classroom.
From the top, the National Archives
provides additional background information
on the Electoral College.
In
this lesson
, students examine the purpose, function, origin, and historical development of the Electoral College in order to gain a better understanding of how Americans elect the President. They then evaluate issues of fairness and representation with regard to the Electoral College. Finally, students participate in a class debate over the pros and cons of the current system.
Similarly, Gilder-Lehrman designed
this lesson to explore how the Electoral College system functions
in determining who will be the president and vice president of the United States. Students respond to a series of prompts and are ultimately asked to weigh in via a short essay on whether the Electoral College should be retained or replaced by the national popular vote.
C-SPAN produced
these video clips describing the Electoral College process
, possible scenarios, a general overview, and once more arguments for and against its continuation.
Debates abound on the continued utility of the Electoral College, and a series of lesson plans engage students in them. Formats vary from a
constitutional convention
to pro/ con debates. The three links that follow provide supportive texts for the latter purpose:
Speaking of Electoral College scenarios,
this New York Times article shows and contextualizes the electoral map
over the past half century. And the website
270towin
is essential to simulating the various scenarios where Hillary Clinton, Donald Trump, or a third party candidate could prevail this fall. Based on polling data aggregated by the wizards at
FiveThirtyEight.com
, the picture below provides a snapshot on the state of the race today, projecting state-by-state winners and corresponding Electoral Votes.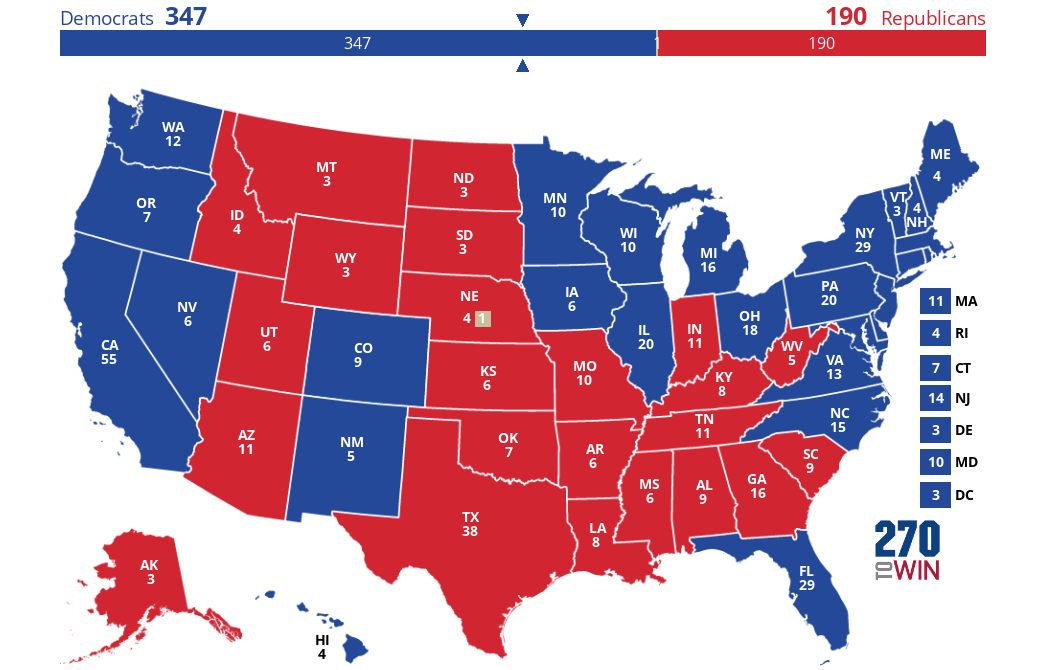 Click the map to create your own at
270toWin.com